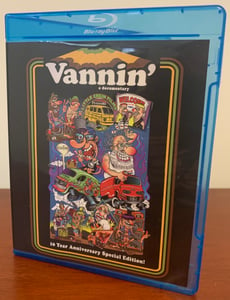 $

15.00 - On Sale
Blu-ray special bonus features:
-Freewheelin' Promo Film
-Extra Archival Footage
-Director Commentary
-Extended Interviews
-HD Transfer
-And more!
For the past 40 years and running, a relatively forgotten and obscure sect of American automotive enthusiasts simply known as "Vanners" have shined up their shag carpet covered vehicular behemoths, tuned-out and trucked-in to an annual event know as The National Truck-In. Affectionately dubbed by its patrons as "The Van Nationals", the event is part camping, part car show, and all party. Largely thought to have gone the way of the dinosaur, the custom canning scene and its traditions remain alive and well among a small and close-knit group of hardcore van owners.
Told through the eyes of the event's patrons, Vannin' takes you into the sun drenched world of "show-fields", "puppy truckers", "s.l.u.t. buses", and the enigmatic "two percent" movement; offering an entertaining all access look into a unique American subculture that saw its rapid rise and fall in the late 1970s. Featuring a raucous soundtrack by Dana, Heavy Times, and Red Desert.
Learn more at http://www.vanninmovie.com